2024 Race
Saturday 5th October 2024
9.30am start, King George V Playing Fields, Patterdale
The 'Hodgson Brothers Mountain Relay' is a fell running relay race that started life as the 'Ian Hodgson Mountain Relay' (see History section for more detail). It is set in the heart of the Lake District Fells, takes place every year on the first weekend in October, and is competed by around 70 teams from across the country, but mainly the North of England. It is the longest-running mountain relay in the country.
The race is a tough one, with 4 legs each throwing up their separate challenges, including hard climbs and steep descents on difficult terrain. The route requires careful navigation, especially in bad weather, so it is imperative that clubs only enter if they are confident that all 8 runners have the navigation & mountain experience to cope with these conditions…. it is not a race for novices wanting to enter their first fell race. The race also represents one of the highlights of the fell running calendar with keen racing across some magnificent mountain terrain, and is always a great social day out ending with many stories & shared experiences.

Each leg is run in pairs (so 8 runners per team) and teams compete for a number of prizes across different categories including Open, Ladies, Mixed and Vets teams.
There is a strict limit on the number of teams allowed to compete each year, currently 70 teams, and the fact it is usually over-subscribed does mean that entries are difficult to obtain and there is a certain amount of 'entry by invitation & vetting' that has to be applied. Sorry!
You will find all the information you need to enter the race, details on each leg, and important bits of info for all competing teams on this website, so please take a look around, and hopefully we'll see you on Saturday 5th October 2024.

Chris, Scoffer, Sara and Jon.

We are greatly indebted to our Sponsors who generously support this race either by providing prizes or giving their time free of charge. Please try and support them in return.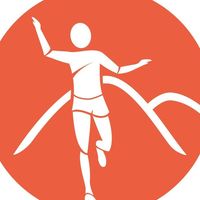 This race is organised under a license from The Fell Runners Association.